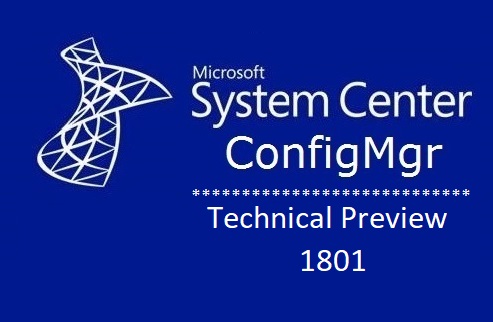 The Microsoft System Center Configuration Manager (ConfigMgr) team has kicked off 2018 with a brand new release of the ConfigMgr Technical Preview branch with version 1801. As always, new features and improvements to the product derive from the feedback they receive from the community on the ConfigMgr UserVoice forum. Now, you can also provide feedback directly from within Windows 10 by using the Feedback Hub App. See additional documentation to provide ConfigMgr feedback.
This update has a number of new features (as listed in the Enterprise Mobility & Security blogpost) which include:
Run Scripts – You can now import and run signed scripts and monitor the script results.
Moving Distribution Points between sites – You can now move an eligible distribution point from one primary site to another primary site or from under a secondary site to a primary site . For information about requirements for moving a distribution point see "Reassign Distribution Point".
Improvements to client settings for Software Center – Client settings for Software Center now has a customize button where you can preview your customizations before deploying them to machines. You can also hide unapproved applications in Software Center.
New settings for Windows Defender Application Guard – For Windows 10 version 1709 and later devices, there are two new host interaction settings for Windows Defender Application Guard. Websites can be given access to the host's virtual graphics processor and files downloaded inside the container can be persisted on the host.
Co-management reporting – You can now view a dashboard with information about co-management in your environment.
Phased Deployments – You can use phased deployments to automate a coordinated, sequenced rollout of software without creating multiple deployments.
Support for hardware inventory strings greater than 255 characters in length – For newly added classes, you can specify string lengths greater than 255 characters for hardware inventory properties that are not keys.
Improvements to Automatic Deployment Rule evaluation schedule – You can now schedule Automatic Deployment Rule evaluation to be offset from a base day.
You can update to the 1801 Tech Preview release via the ConfigMgr console under the Updates & Servicing node. The baseline version of the Technical Preview branch is now at version 1711 and available on the TechNet Evaluation Center.
The following document provides further details on the capabilities in Technical Preview 1801 for System Center Configuration Manager.
Here's my video tutorial which I did for version 1701. The steps are the same for 1801.

Here are the step-by-step upgrade guide (if you prefer not to watch the video) to get your current ConfigMgr Technical Preview site to version 1801:
You will find the 1801 update available in the ConfigMgr console under Administration > Updates and Servicing. If you don't see it, click on Check for Updates in the menu ribbon.

Right-click on Configuration Manager Technical Preview 1801 and click on Install Update Pack. If you prefer, you can also use the Install Update Pack option from the ribbon menu. I recommend that you run the prerequisite check first to make sure there are no issues reported with your site server. Otherwise, you will need to address the issues before proceeding with the update.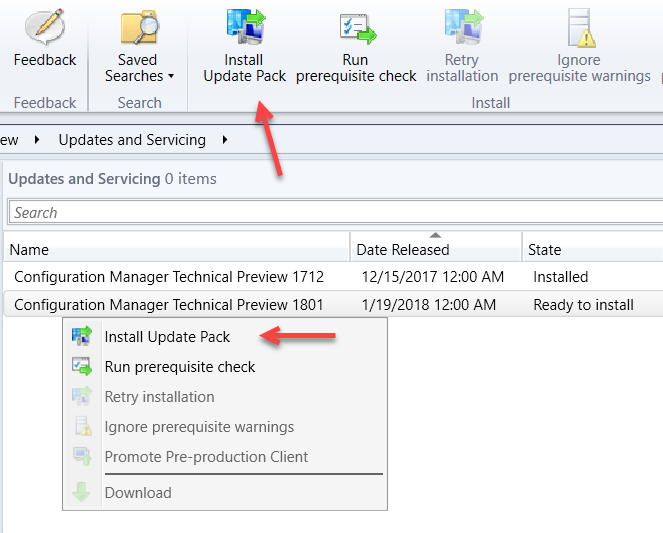 Click Next and select the checkbox if you want to ignore the prerequisite check warning.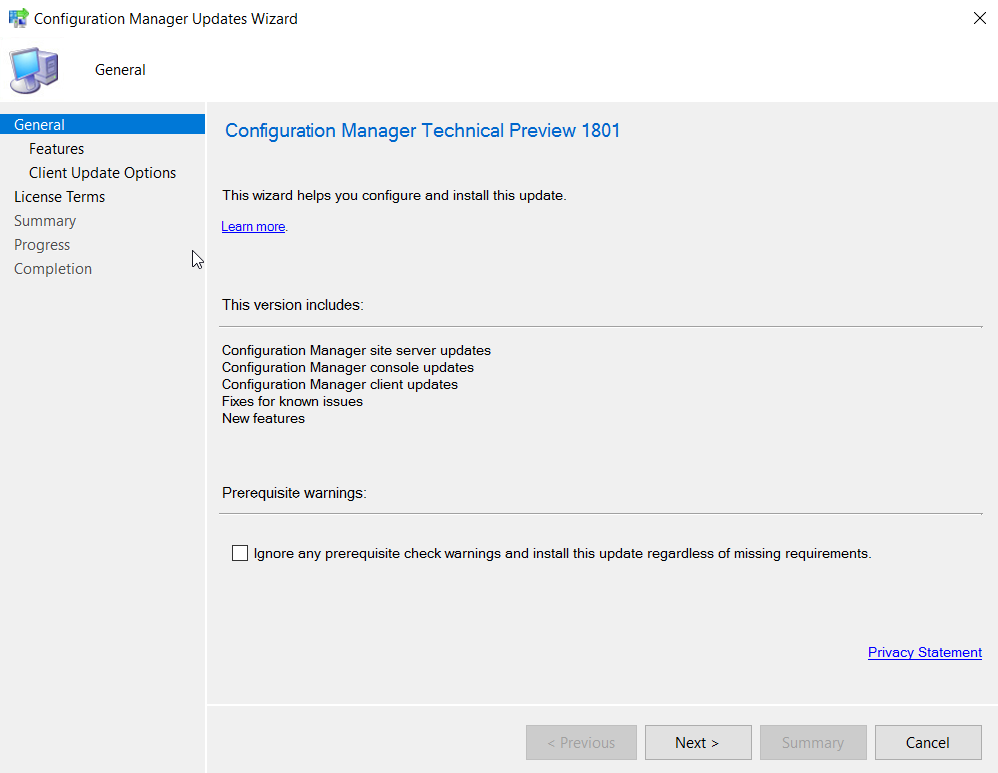 Select the features desired for install in the update pack. You can choose to do this later under the Updates and Servicing node.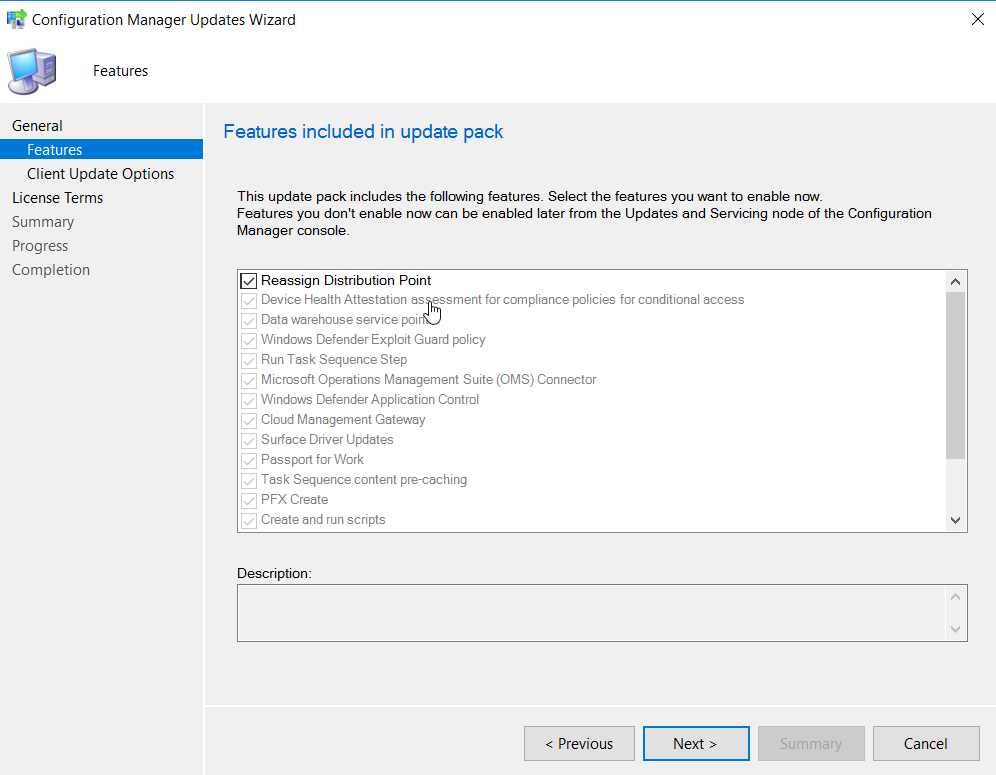 Pick your option to validate or not to validate the upgrade against a collection. For my production Current Branch site, I generally select Validate in pre-production collection and choose one of my test collections for the first phase of the upgrade. However, since this is the Technical Preview site and only used in a test environment, you can continue with the option, Upgrade without validating.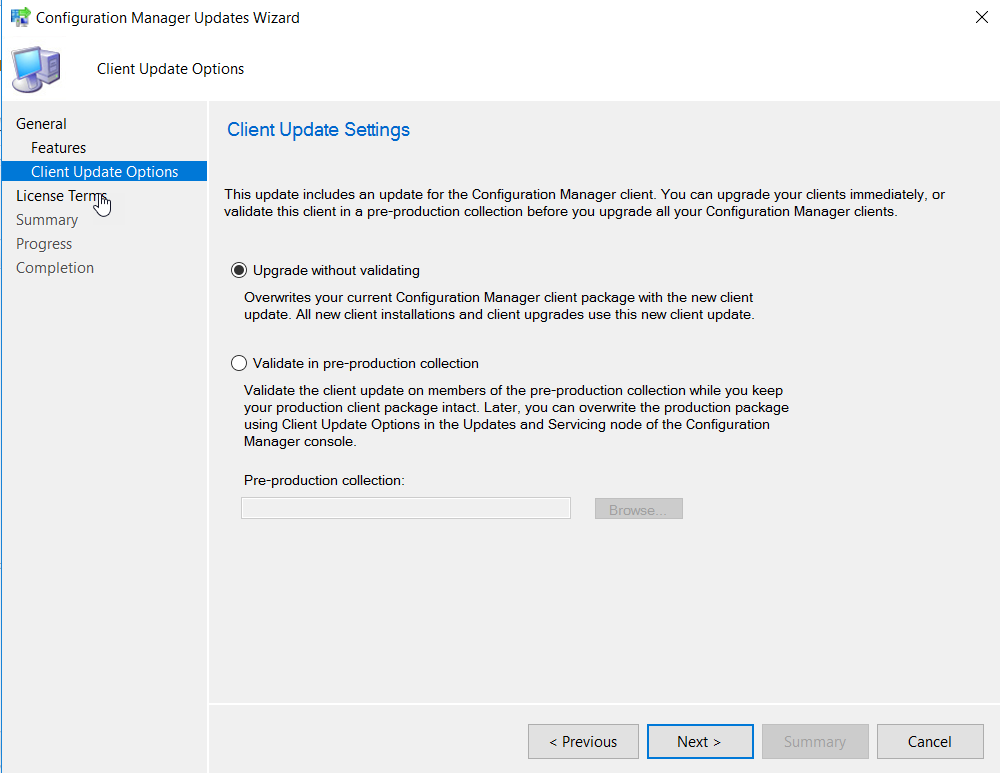 Select the license terms and click Next.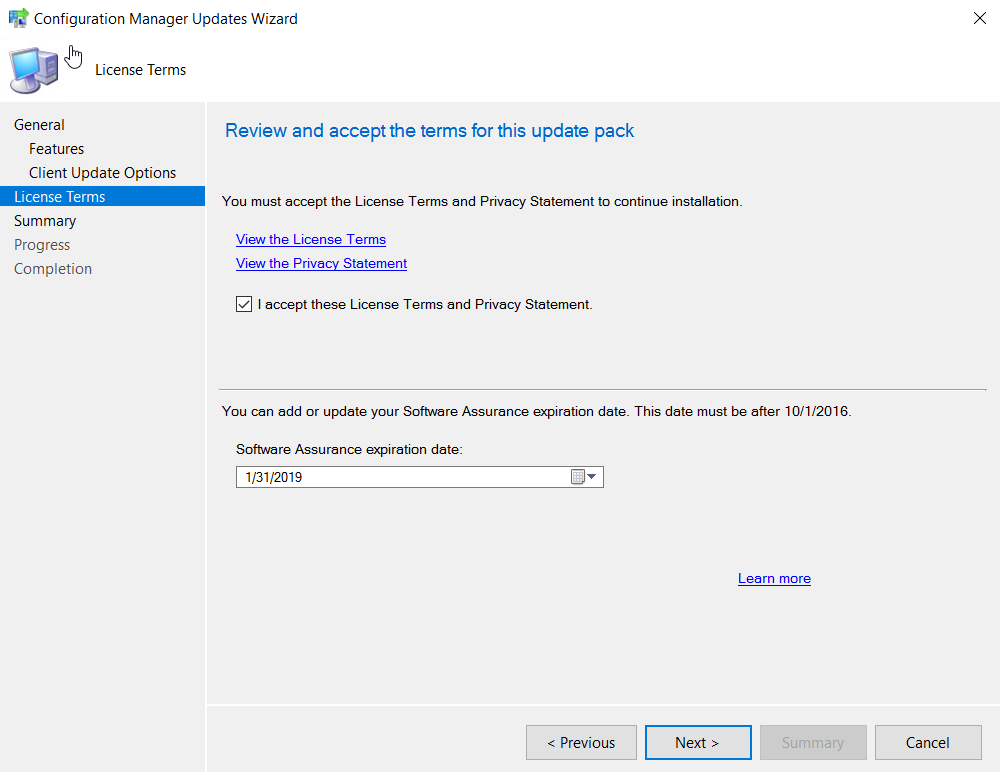 Click Next to confirm the settings.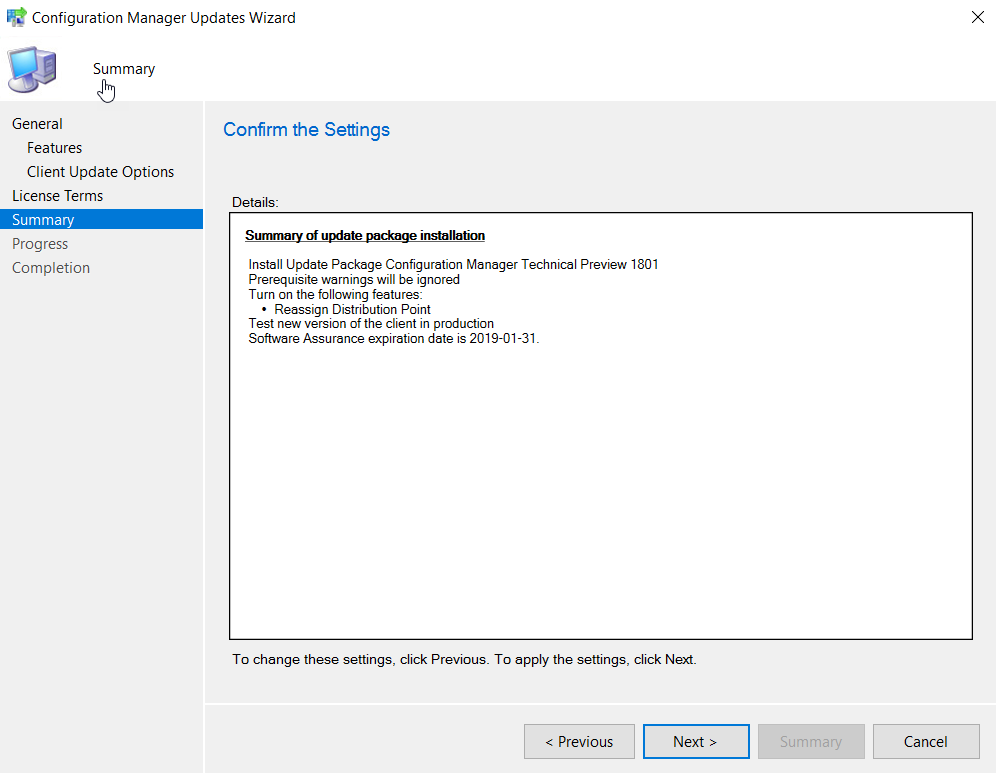 Click Close.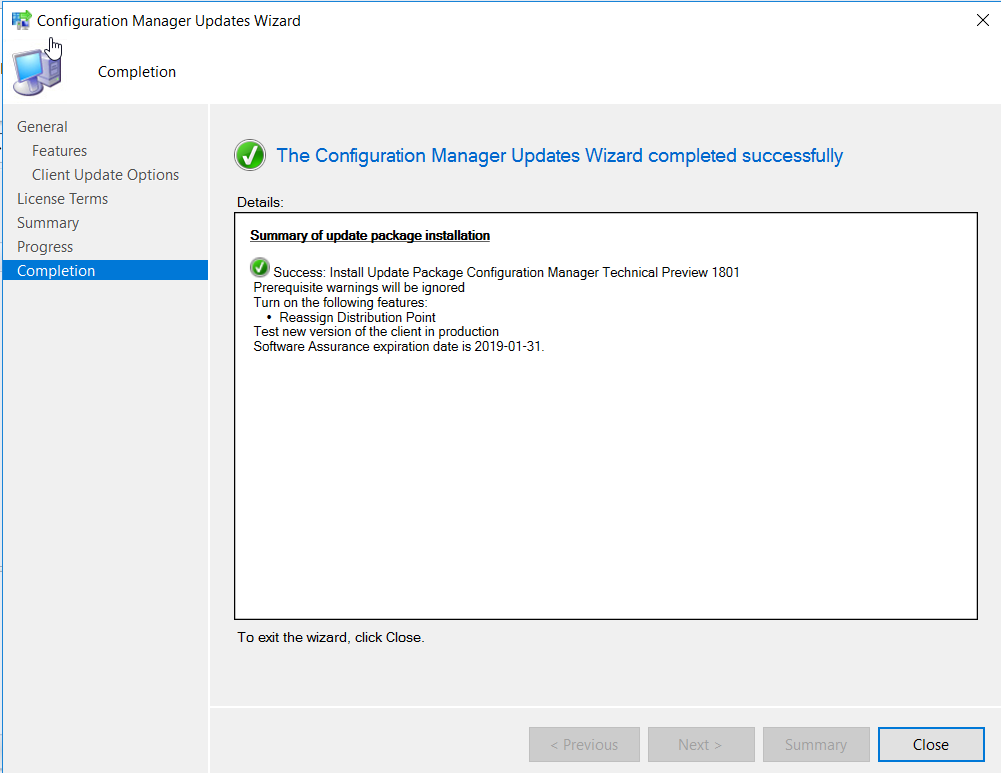 You can now monitor the status of the upgrade under Monitoring > Updates and Servicing Status. Then select the update package name and click on Show Status in the ribbon menu.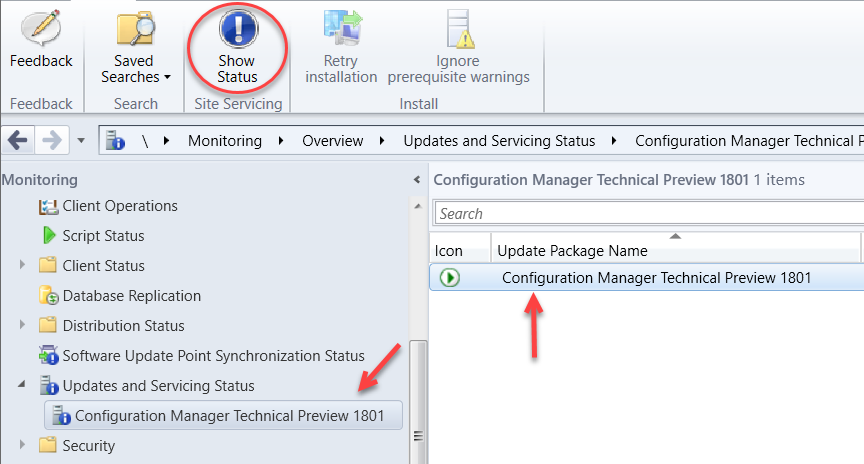 The window below will show the stages of the upgrade process where you can monitor it's progress. If there are any issues, you will see it listed here with a warning and the details provided in the description box in the bottom of the window.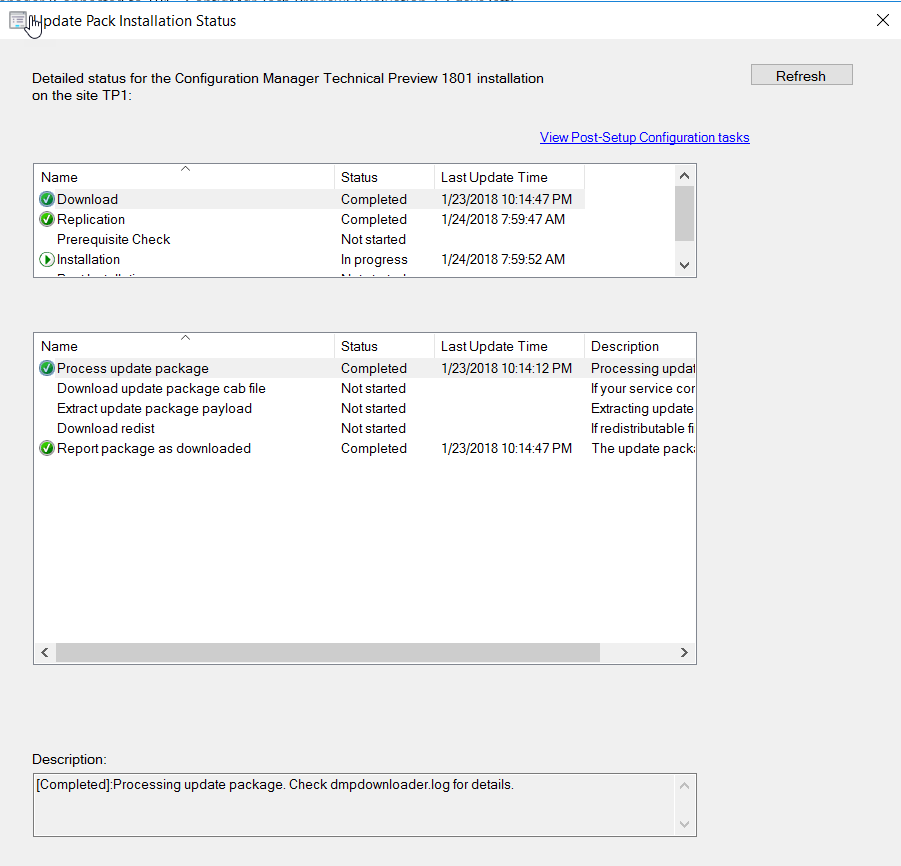 Upon successful completion of the hotfix installation, you will be presented with the pop-up window as seen below to indicate a console upgrade from version 5.0.0.8595.1000 to 5.1802.1050.1000 is available.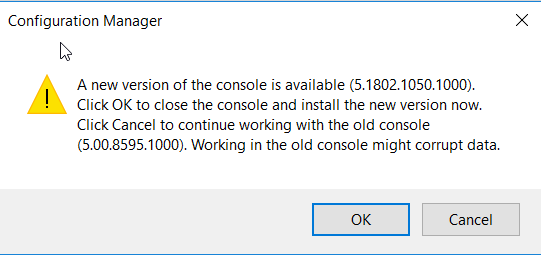 You can verify the console upgrade in the About System Center Configuration Manager drop down menu from the console.
Version 1801 for Technical Preview
Console version: 5.1802.1050.1000
Site version: 5.0.8611.1000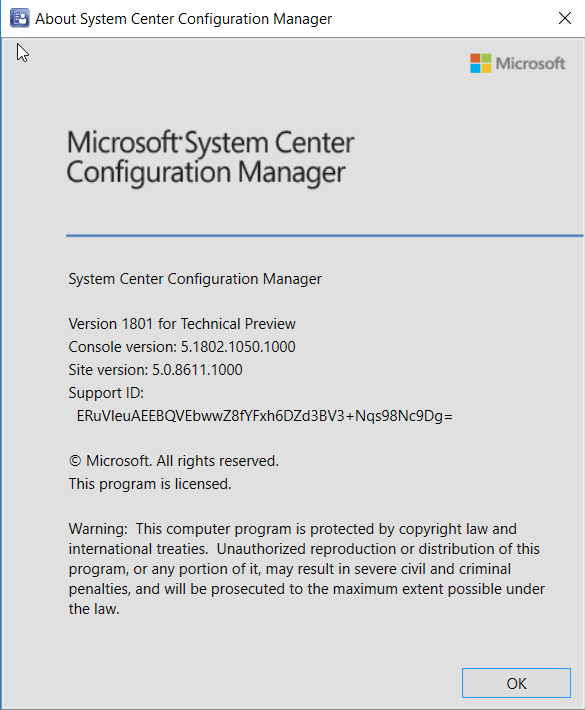 And you now have ConfigMgr Technical Preview 1801 running in your test environment.