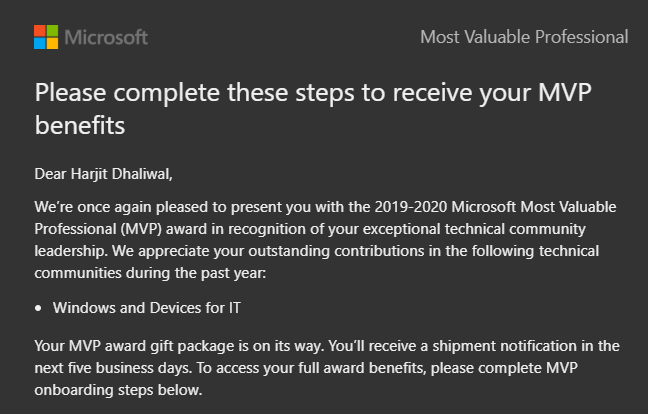 I'm so Thankful, honored, and excited to receive the above email from the Microsoft Most Valuable Professional (MVP) Award team confirming my award renewal for the 2018-2019 year. This is my second consecutive award since receiving my first one on January 1, 2017. It has been a wonderful, exciting, fun, challenging, and rewarding experience with endless opportunities.
The MVP award has provided me with some great opportunities in terms of my career growth, skill development, and avenues to give back and help others in the IT Professional community. I have been invited to speak at conferences such as Microsoft Ignite (Orlando 2017 & 2018), MVP Community Connections (Boston and New York City), TechMentor, IT/Dev Connections, MMSMOA, user groups, various webinars, as well as opportunities to guest blog, join technical expert panelist, review technical books, test and evaluate software, provide technical expertise, guest speak on podcasts, community reporter at Microsoft Ignite 2017, community engagement specialist at various events, and much more.
This is my 3rd MVP Award and I am very grateful and appreciative for it and for the various opportunities provided to me over time. Thank you very much to each and every one of you for making me successful in my efforts as a MVP, IT Professional, and community contributor, and for providing me with the valuable resources and networking opportunities. Thank you!