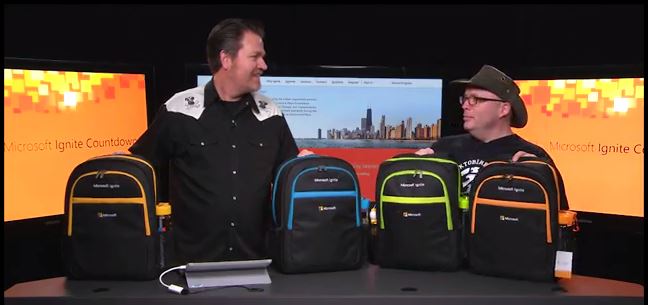 One of the most sort after Countdown shows is here and its all about the BAG(s)!  Yup, you heard it right, bags. Not one, not two, not three, but four trim colors.  Each Microsoft Ignite attendee will have a choice of blue, orange, yellow, or green trim colors on ballistic black backpacks. Each bag is identical and comes with a matching water bottle and a removable accessory bag which zips open and can lay flat to allow for easy access. This accessory bag is ideal for cables, adapters, batteries, flash drives, memory cards, and other small items which tend to disappear within a large bag.
In short and sweet, these bags are durable, made of ballistic material, has zippered compartments, pockets, key chain hook, padded backpack straps for comfort, padded back with air channel for support, and completely padded compartments to keep your laptops and tablets protected. Watch the video and see how Rick packs it full with several of his devices including his hefty 17″ laptop. It's crazy but he demonstrates that it can be done.
So, this week on Episode 6 of the Microsoft Ignite Countdown Show, Rick Claus (@RicksterCDN) and Joey Snow (@JoeySnow) talk all about the bags. Watch the video for complete details of the bags! For the sake of fun, tweet your choice of trim colors with the hashtags #IgniteYellow, #IgniteGreen, #IgniteBlue, or #IgniteOrange.
Check out this episode on Channel 9 or you can watch it directly below:
If you have any questions, concerns, or suggestions, feel free to ask on the Microsoft Ignite Forums, via Twitter, as well as in the Comments section under the video. The Microsoft Ignite team monitors all questions and will respond as they have the answers or information.
Keep watching for more tips on making the most of your experience at Ignite, and more ways to enjoy Chicago! Register now for Microsoft Ignite, May 4-8, 2015, Chicago.
For conversations and interactions, join the following channels:
Stay tuned for the next episode of the Countdown Show, coming up next Tuesday at 8:00AM PST / 11:00AM EST.