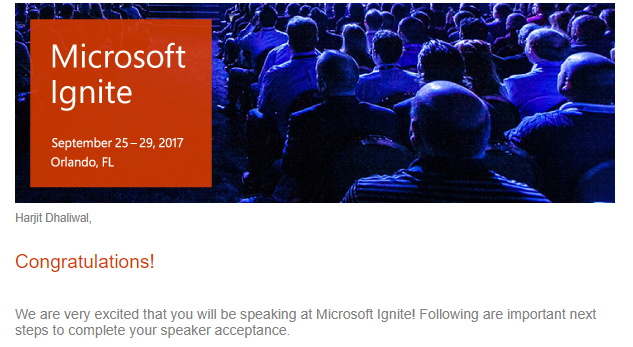 I was recently approached by the Microsoft Ignite team to submit some session topics for this year's conference in Orlando taking place from September 25-29. As an MVP in the "Windows and Devices For IT" category, the team was interested in the Windows platform as I'm regarded as a subject matter expert in that arena, although I tend to work quite a bit with Systems Center Configuration Manager (ConfigMgr).
Well, today (August 18, 2017) I received confirmation from Microsoft Ignite that I have been accepted to speak at the conference covering two theater sessions. This couldn't have come at a better time since I have plans to be in the area for some personal family activities, and it's a great way to kill two birds or maybe three with one stone. My first session, "Hey Mom I'll Fix Your Computer" (THR1073) will be on Monday, September 25 at 1:45PM at OCCC South, Expo Theater #7, and I will cover how you can solve computer issues and provide tech support remotely with a built-in tool in Windows 10.
My second session "Cool Microsoft Edge Tips and Tricks" (THR1072) will take place at 5:05PM at the same location and on Monday as well. In this session, I will show you how you can improve your browsing experience by leveraging some features in Microsoft Edge. If you are attending Microsoft Ignite in Orlando this year, feel free to sign up and check out my sessions. In case you haven't heard of me, here's my profile! 🙂
I am truly honored and grateful for this amazing opportunity to speak at the largest Microsoft conference in the world and I hope I meet everyone's expectations and will do a great job. A big Thank you to Microsoft for this awesome opportunity, and to the MVP team and to my ever so appreciative IT Pro peers for your on-going support and encouragement always. Thank you Thank you Thanks you! Time to rock #MVPJit!
Follow me (@Hoorge) on Twitter and join Tech Konnect on Facebook and Twitter (@TechKonnect) to stay current on technology related matters.