Microsoft Ignite 2016 is SOLD OUT!

Microsoft Ignite 2016 is now SOLD OUT! If you missed out—don't fret. You can livestream day 1 here: https://ignite.microsoft.com?ocid=ignite_post_soldout_social_video_savethedate_tw

Posted by Microsoft Ignite on Monday, August 15, 2016
In case you missed the announcement, Microsoft Ignite Conference to be held in Atlanta, Georgia from September 26-30, 2016 is now sold out! You can watch a livestream from Day 1 from the following link: msft.it/6015B2yRL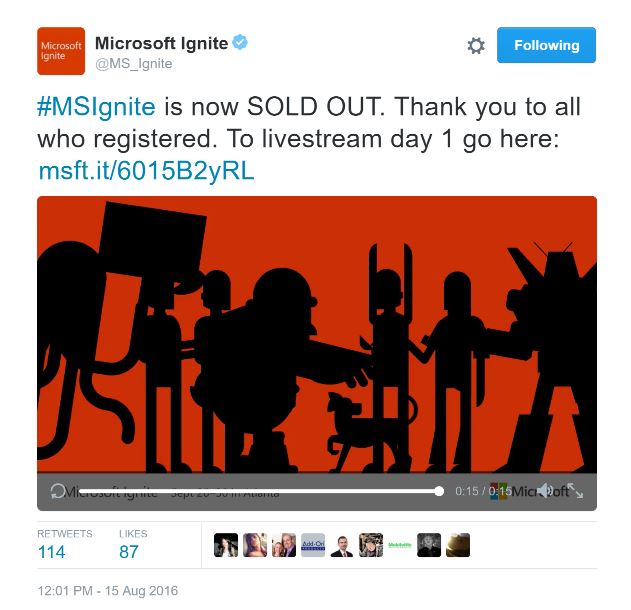 The above tweet was posted by the Microsoft Ignite team announcing the close of registration using their official @MS_Ignite Twitter account. Follow them as well as the hashtag #MSIgnite for further on-going information. If you received a late approval to attend Microsoft Ignite from your employer but you're not able to register at this point, you still have the ability to win a free pass from a couple of vendors, Such as Adaptiva and HyperGrid. Check them out, follow their Twitter and Facebook feeds and Good Luck!
See ya soon at Microsoft Ignite, September 26-30, 2016 at Georgia World Congress Center in Atlanta.
For conversations and interactions, join the following channels:
Follow (@Hoorge and @TechKonnect) on Twitter and join Tech Konnect on Facebook to stay current on technology related matters.