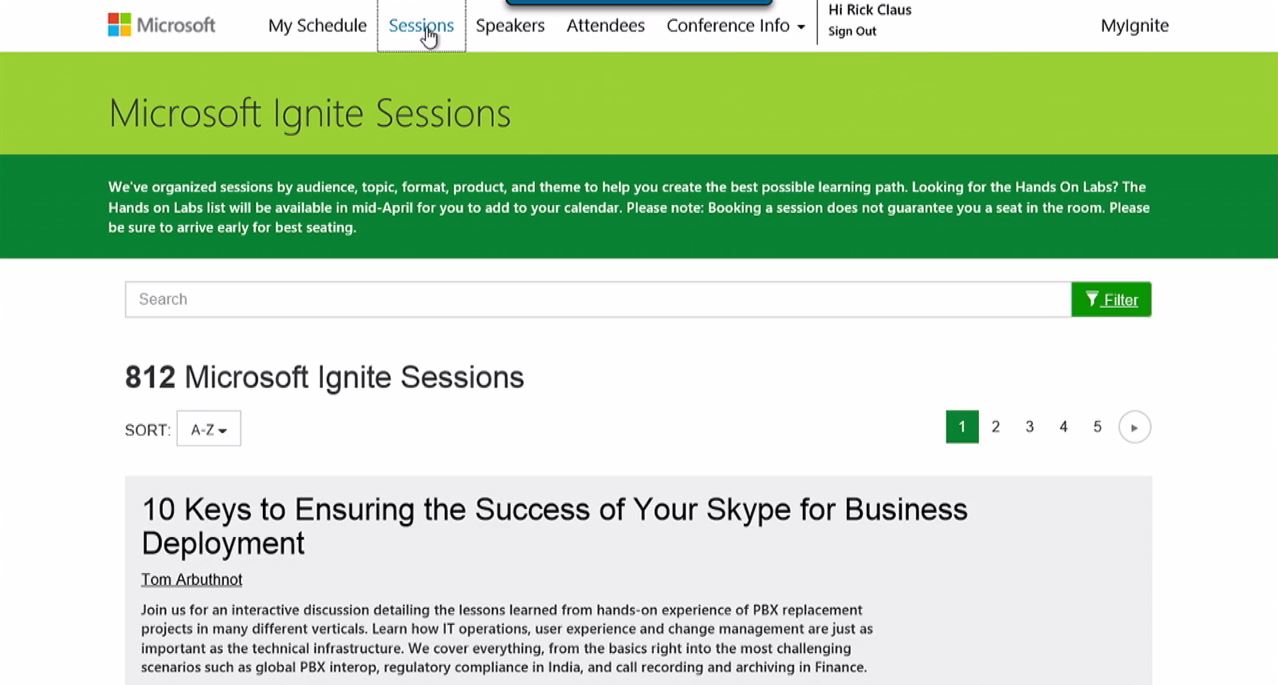 The anticipation and wait is over. This week on Episode 9 of the Microsoft Ignite Countdown Show, Rick Claus (@RicksterCDN) and Joey Snow (@JoeySnow) bring us the 2nd most requested show, all about the Schedule Builder. You've been asking when you can start building your schedules, well now you can. The Schedule Builder is now LIVE on MyIgnite!
The Schedule Builder is greatly improved from previous years and has some wonderful capabilities, especially with the filtering options that is going to drastically ease the experience of building one's schedule. Along with the Schedule Builder, a conference multi-tool known as MyIgnite is rolling out, with more features as we get closer to the conference dates of May 4-8. This tool, which is basically a digital hub will help enhance everyone's experience with Ignite.
What's MyIgnite you ask?
In it's current phase of development, the MyIgnite tool will include the Schedule Builder, provide access to sponsor and exhibitor information, and the ability to join the Yammer network. The tool is evolving and the future functionality will include the Attendee Directory, a meeting scheduler, and more. In order to experience the full functionality and take advantages of what the tool offers, you will need to associate your Windows Live ID with your Microsoft Ignite registration. To do so, go to http://ignite.microsoft.com and click on "I've already registered", and follow the steps to associate your Live ID with your registration. This is the first step you need to take before starting with the Schedule Builder.
Microsoft Ignite encourages you to build your schedules and even double and triple book sessions within the same time slots, which will help you when you have a conflict or a change of mind with the sessions you want to attend at the last minute. The advance schedule builds by attendees will provide valuable information to Ignite planners on which sessions are popular, how to schedule them into appropriate rooms, and offer repeat sessions if needed. Since, the room assignments are not currently included in the catalog, I would recommend that you hold off on exporting your schedule to your calendar until rooms have been assigned to the sessions which will happen as we get closer to the conference. This will save you the hassle of exporting and importing into your calendar multiple times. Keep in mind that seating for the Hands-On-Labs (HOL) are on first-come-first-served basis and therefore, they are not guaranteed.
Finally, make sure you update your profile for the Attendee Directory, which you can do through MyIgnite, with pertinent information such as your bio, interests, social tags, photo, and contact information, so you can start networking and connect with others with similar interests, even before you arrive in Chicago for the conference. You will also have a choice to share your schedule with others, as well as opt-in to be listed in the Attendee Directory if you choose to do so.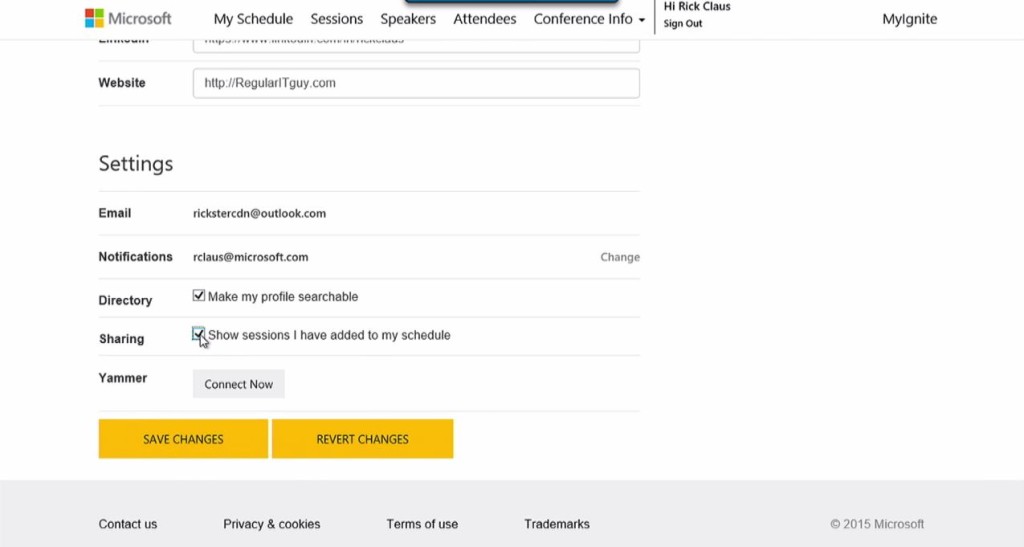 Without further delay, watch the video to see Rick and Joey demonstrate how to use the Schedule Builder and how you can update your profile.
Check out this episode on Channel 9 or you can watch it directly below:
If you have any questions, concerns, or suggestions, feel free to ask on the Microsoft Ignite Forums, via Twitter, as well as in the Comments section under the video. The Microsoft Ignite team monitors all questions and will respond as they have the answers or information.
Keep watching for more tips on making the most of your experience at Ignite, and more ways to enjoy Chicago! Register now for Microsoft Ignite, May 4-8, 2015, Chicago.
For conversations and interactions, join the following channels:
Stay tuned for the next episode of the Countdown Show, coming up next Tuesday at 8:00AM PST / 11:00AM EST.