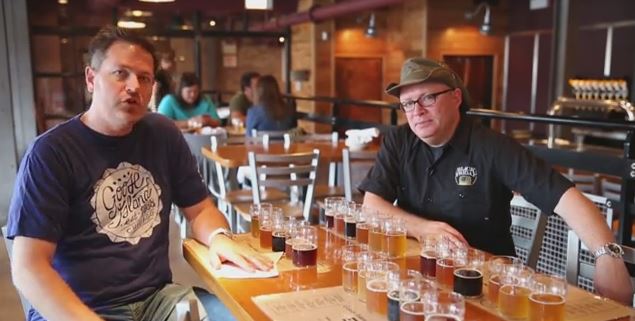 Here we go with episode 2 of the Microsoft Ignite Countdown Show with Rick Claus (@RicksterCDN) and Joey Snow (@JoeySnow) where they talk about the Pre-Day Sessions and share more of their favorite places to eat and drink in Chicago.  You can't go wrong with knowing where the hotspots are for coffee, beer, steaks, and cocktails in Chicago.
Check out this episode on Channel 9 or you can watch it directly below:

First, we have the Pre-Day Sessions, which will be available on Sunday, May 3, 2015, from 9:00AM – 5:00PM.  There are 17 sessions to choose from presented by leading industry experts with topics that are relevant for IT Professionals and Developers.  Pre-Day Sessions cost $500 and can be added from the Content Catalog via your Microsoft Ignite registration page.  Listed below are the Pre-Day Sessions offered, along with their corresponding presenters:
PRE01: Administrator's Mandatory Check List: The Ultimate Guide to Securing Your Infrastructure – by Paula Januszkiewicz
PRE02: Advanced Analytics with Microsoft Azure Machine Learning, Microsoft SQL Server, and R – by Rafal Lukawiecki
PRE03: Project Siena: Create Custom Mobile Business Apps, No Code Required – by Ben Hodes
PRE04: Building a Hybrid Microsoft Exchange Server 2013 Environment – by Michael Van Horenbeeck
PRE05: DevOps Hackathon – by Damien Caro, David Tesar, Vinicius Apolinario
PRE06: End-to-End OneDrive for Business Planning, Deployment and Best Practices – by Jeremy Mazner
PRE07: Enterprise Management in 2015 and Beyond – by Johan Arwidmark, Kent Agerlund
PRE08: Get Ready to Deploy Microsoft Exchange Server 2013 – To be announced
PRE09: Hands-on Windows 10 Enterprise Deployment – by Mikael Nystrom, Mike Niehaus
PRE10: Hybrid Cloud Management and Automation with Microsoft System Center – by Alex Frankel, Daniele Muscetta, Joe Levy, John Ballard, Laura Cruz, Ravi Kiran Chintalapudi
PRE11: Microsoft Office 365 Development On-Ramp – by Andrew Connell, Scot Hillier
PRE12: Microsoft Office 365 Network Performance Optimization – by Paul Collinge
PRE13: Microsoft Office 365 ProPlus Deployment Boot Camp – by Curtis Sawin
PRE14: Microsoft SharePoint Server 2013 and Office 365 Hybrid Training – by Bill Baer, Steve Peschka
PRE15: The Microsoft Azure Cloud for IT Pros – by John Craddock
PRE16: Troubleshoot SQL Server Performance Like a Microsoft Engineer – by Bob Ward
PRE17: Windows 10: Enterprise Mobility Workshop – by Roel Schellens
Next comes the entertainment.  Rick and Joey had a chance to explore some fine establishments in Chicago and here are the places they talk about in this episode.
La Colombe Coffee:
Great coffee served daily from 7:00AM-7:00PM with awesome roast to please everyone. You'll have to check out their cold pressed black coffee in the bottle which is unique in it's own way.
Twitter: @lacolombecoffee
Goose Island Beer Co:
Goose Island offers some amazing selection of craft brews, which are all made on-premise. Grab a bite and a sample of beers, including their bourbon-aged brew which is aged in whiskey barrels.  They also offer public tours on Saturday and Sunday and private tours by appointment only.  Check out their website for more info.
Twitter: @GooseIsland
Tavern On Rush:
Steaks and seafood are their specialty and most famous for their prime aged steaks and chops in Chicago. A casual tavern style ambiance is located downstairs, while a white jacket / white cloth dining is available upstairs which require a reservation.
Twitter: @TavenOnRush
ROOF on theWIT:
Located 27 floors up, the ROOF on theWit offers some stunning panoramic views of downtown Chicago with an intimate, modern bar and nightclub setting. With a capacity of only 250, a table reservation is highly recommended.  Enjoy some craft cocktails, indulge in their small plates menu, and warm up by the fireplace.
Twitter: @ROOFontheWit
Keep watching for more tips on making the most of your experience at Ignite, and more ways to enjoy Chicago! Register now for Microsoft Ignite, May 4-8, 2015, Chicago.
For conversations and interactions, join the following channels:
I highly recommend that you follow Choose Chicago, which is the official guide for Chicago offering a vast amount of information relating to this awesome city.  The friendly folks at Choose Chicago are quick to answer and offer valuable advice on your visit to Chicago.  Follow and check them out.
You can also follow me on Twitter (@Hoorge) and Instagram, and reach out to me if I can help answer some questions or be of further assistance.  Stay tuned for the next episodes of the Countdown Show which are scheduled to be released every Tuesday at 8:00AM PST / 11:00AM EST.