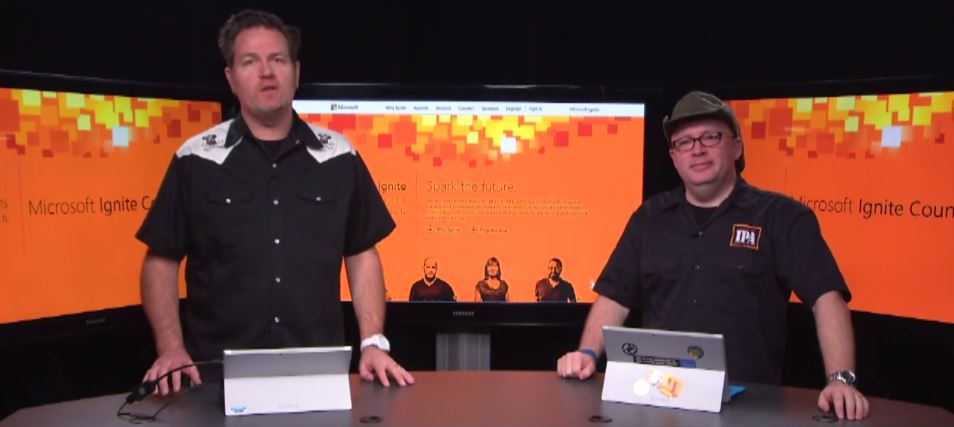 The first Microsoft Ignite Countdown Show is online and starts the kickoff to a great conference in Chicago from May 4-8, 2015.
Rick Claus (@RicksterCDN) and Joey Snow (@JoeySnow) are back and brilliant as always.  These shows are very informative, fun, and gets the IT community excited for what to expect at the first Microsoft Ignite Conference and what to look forward to in Chicago.  As a proud member of the Ignite Roundtable team, I'm excited!
Check out this episode on Channel 9 or you can watch it directly below:
This episode covers the basics of what the future episodes will cover.  Here are the places mentioned in this show for eating, drinking, and to be merry in Chicago.
Gino's East Pizza
– Real delicious deep dish pizza in Chicago and not to be missed.
Twitter: @ginoseast
Portillo's Hot Dogs
– Some of the best hot dogs you will find in Chicago.
@PortillosHotDog
CH Distillery
– Spirits made from farm-to-table with locally grown wheat and rye.
@CHDistillery
The Berghoff Restaurant
– This fourth generation establishment holds the oldest liquor license in Chicago, license #1.  Classic German fare, also serves their own lager, hefeweizen, pale ale, and seasonal beers, plus a selection of Berghoff sodas.
@BerghoffChicago
Keep watching for more tips on making the most of your experience at Ignite, and more ways to enjoy Chicago! Register now for Microsoft Ignite, May 4-8, 2015, Chicago.
For conversations and interactions, join the following channels:
I highly recommend that you follow Choose Chicago, which is the official guide for Chicago offering a vast amount of information relating to this awesome city.  The friendly folks at Choose Chicago are quick to answer and offer valuable advice on your visit to Chicago.  Follow and check them out.
You can also follow me on Twitter (@Hoorge) and Instagram, and reach out to me if I can help answer some questions or be of further assistance.  Stay tuned for the next episodes of the Countdown Show which are scheduled to be released every Tuesday at 8:00AM PST / 11:00AM EST.